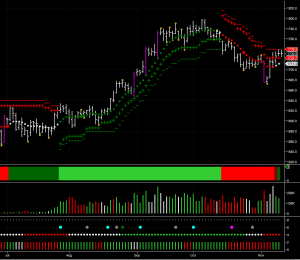 Some interesting changes in trend for gold over the last few days following the sharp move lower earlier in the month, which sent gold futures below the psychological $1700 per ounce level to test the $1675 per ounce region, and duly signaled on the daily chart with a purple widebar. The subsequent market price action failed to validate this price bar, and indeed an isolated pivot low was duly delivered at this price point, with the gold market climbing higher to move back above the $1700 per ounce level once again as the precious metal recovers some of its recent bullish momentum once again.
Indeed this potential change in momentum is now clearly in evidence on the daily chart with our trading indicator having transitioned from bright red, to dark red, and currently through to dark green, and should this ultimately move back to bright green, then this could signal a return to the bullish momentum of the summer months and through September. The move higher over the last few days has been accompanied with buying volumes on the daily chart, and with the three day chart, also showing buyers coming back to the market, the positive sentiment for gold is returning. However, for a longer term trend run higher, we need to see the three day trend transition from bearish where it is currently, either to a white trend in transition, or through to green, which will then add further momentum to any sustained move higher.
From a technical perspective the key level of price resistance remains in the $1760 per ounce region, and for any sustained move higher, this level will have to be breached. If this is cleared, then $1800 per ounce is the next psychological level and should this level be breached then we can expect to see gold prices continue to climb higher with this solid platform of price support below.
By Anna Coulling