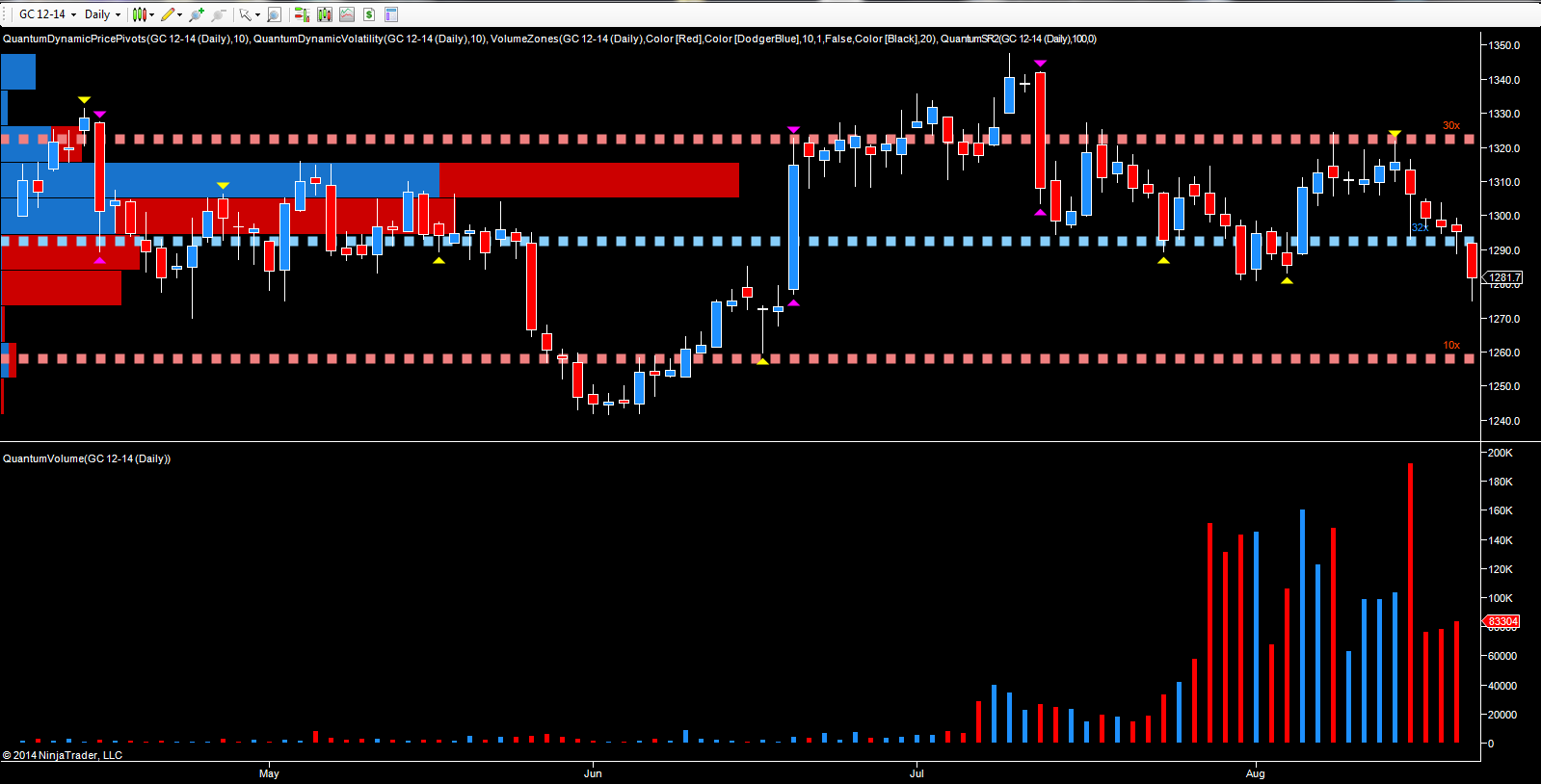 For gold traders who trade what they see and not what they think, it's been a question of not if, but when gold prices would finally break lower, with the overnight session on Globex finally delivering the much awaited fall, as the GC December futures contract finally breached potential support in the $1292 per ounce region. Until last night this had held firm under increasing pressure, but the hawkish comments from the FED, gave further impetus to the US dollar with gold selling off sharply on USD strength. Indeed this was the catalyst that the precious metal had been waiting for, following the signal of weakness which had been there for all to see.
Regular readers will know I have been bearish on gold for some time, and remain so for the time being, with volume price analysis sending some very clear signals since the start of the month. The first of these signals arrived following the minor rally higher in the first two weeks of August, with the wide spread up candle on ultra high volume. This was duly followed by a narrow spread up candle on high volume, the first sign of weakness. After all, with 120k contracts traded, and with the price action closing with a narrow spread candle, clearly much of this volume was selling into the rally, and signalling weakness to come. The following day this was duly confirmed with the first of several shooting star candles again on ultra high volume. In addition, the deep resistance overhead as shown with the red dotted line on the accumulation and distribution indicator was also adding yet further confirmation of weakness.
This initial signal was then further confirmed with two subsequent shooting star candles, both with high volume, and with the last of these ultimately topped off with a pivot high, with the resistance level overhead holding firm. The selling then began in earnest, with the following day seeing a sharp move lower as the price of gold moved down to test the support region in the $1295 per ounce region, with volumes soaring to just below 200k on the session. This signaled the final 'last hurrah' as the big operators cleared out their remaining sell orders to the remaining buyers in the market, in preparation for the next leg down. The question now is how far is gold set to fall? A good question, and with the deep area of price congestion now firmly in place above, the next logical level is the potential support platform in the $1260 per ounce region which is likely to be tested in due course. If this is breached then we could even see a sustained move back to the $1200 per ounce level last seen at the start of the year. Volume as always coupled with price, the two leading indicators of volume price analysis, will signal when any buying climax is reached, but rest assured we are not there yet in any timeframe.
By Anna Coulling