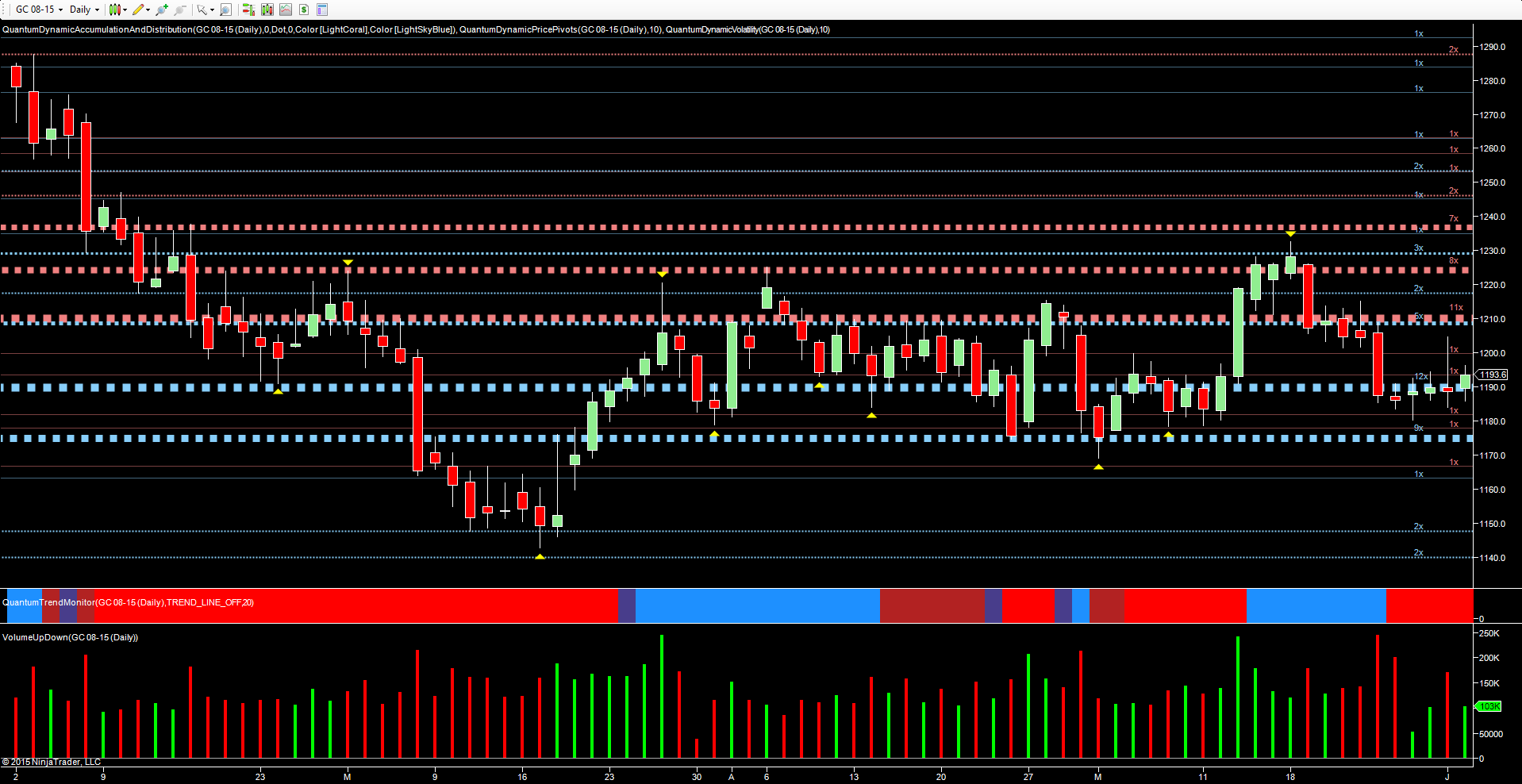 It is perhaps significant, that even today's tumble in the US dollar, has failed to provide any upwards momentum for either gold or silver, with the former gaining a miserly $4 per ounce whilst for silver it was an even more modest 25 cents per ounce, as both commodities continue to remain waterlogged and wallowing in a congestion phase on the daily charts. For gold investors, the only comfort of the current technical picture is the platform of support in the $1187 per ounce region which continues to hold, and on which the price action of the last few days has been perched, with today's narrow spread candle adding to the current inertia for the precious metal.
Yesterday's price action was typical of current sentiment with the intra day rally ahead of the economic news duly snuffed out almost instantly, and closing near the open of the session at $1188 per ounce. The associated volume was well above average and confirming the bearish sentiment which saw sellers enter the market almost immediately on profit taking following the move beyond $1200 per ounce sending the metal lower once again. The move higher today has also lacked conviction, and whilst volume and price are in agreement, there is little to suggest that bullish sentiment is returning for gold. Should the current platform of support duly fail, then the next level awaits below in the $1175 per ounce region, and once I have outlined on several previous occasions. This is the level at which the trap door opens for gold, with a steep decline in the price of gold then in prospect.
Silver too is having its own problems as it too flirts with another level of support in the $16.70 per ounce area, and which has held firm over the last four days, but tested once again today. Like gold, yesterday's rally was short lived with the metal closing with the same price and volume profile as for gold. And just as for gold, any move through the current platform of support then opens the way to a test of the $16.15 per ounce, and should this be breached then a deeper move is likely as bearish momentum picks up with gold leading the way lower.
Finally, another factor for both gold and silver is the general decline in volatility which has been falling steadily on the GVZ index at the CBOE, and currently stands at 14.87, and is now approaching historic lows. Until volatility picks up once again, the current price action will remain subdued.
By Anna Coulling
Charts are from NinjaTrader and the trading indicators from Quantum Trading.