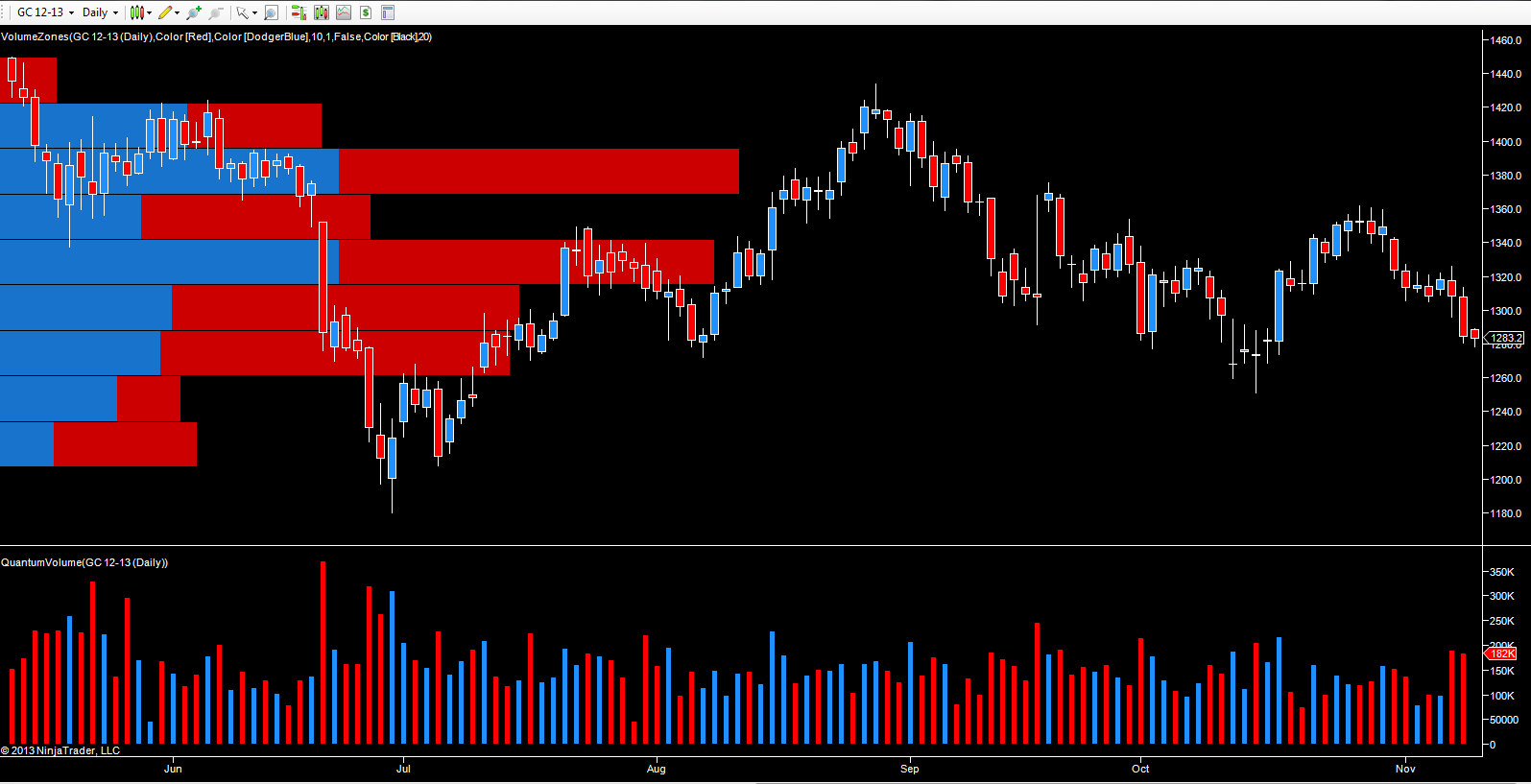 For gold bugs the past few weeks have been a roller coaster of emotions, with the gold price first recovering strongly from the low of mid October in the $1260 per ounce region, adding almost $100 to the price. Since then the December gold futures contract has rolled over again, and resumed its bearish tone for the precious metal. This was something I suggested would happen and indeed was reflected in a market that was rising on falling volumes, and it was really only a question of time before it topped out.
Since early November gold has been rangebound, oscillating between $1300 per ounce to the downside, and $1320 to the upside as the metal attempted to find some support at this price point. However, Friday's non farm payroll and consequent surge in the US dollar duly sent gold plunging through this level, closing the week at $1284.60 per ounce posting a wide spread down candle as a result on very high volumes.
In addition, a feature of the past few weeks gold trading has been the re-connection of the traditional, inverse relationship between gold and US dollar, and with the currency of first reserve now looking bullish on the daily charts, gold traders can expect to see further weakness in the short to medium term.
In early trading today on Globex, gold futures have been easing lower once again, pushing down to test the $1280 per ounce level, and trading at $1282.40 per ounce, at time of writing.
Moving forward we are now approaching a key support level at the $1268 per ounce region, and should this be breached we could see gold prices move lower still and back towards the $1180 per ounce region, last seen in late June.
Finally, moving to the volume at price histogram on the left hand side of the chart this really tells its own story, revealing a deep bar of congestion overhead, between $1320 and $1340 which is also weighing heavily on gold prices. Until we see a sustained buying climax the outlook for gold remains firmly bearish in this time frame.
By Anna Coulling