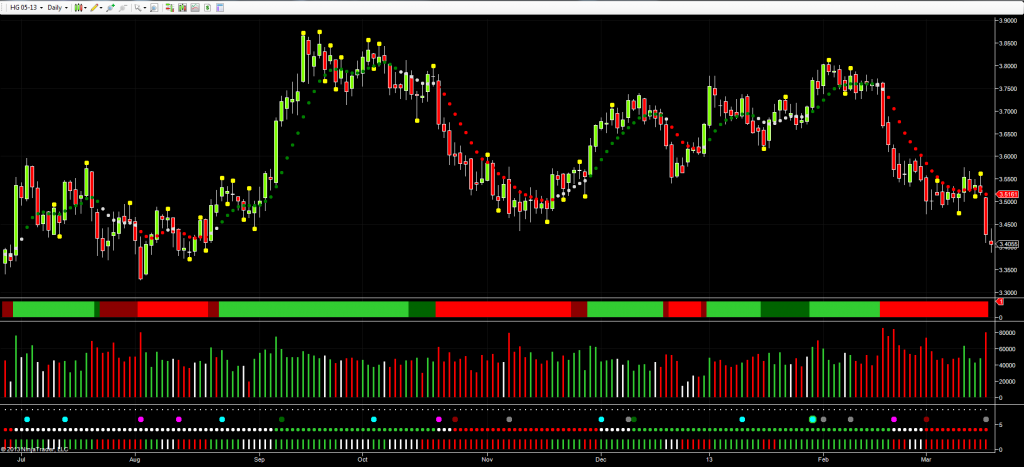 Doctor copper is anything but on the daily chart, as the May futures contract traded lower once again today, following yesterday's sharp sell off, which saw the metal end the commodities trading session with a wide-spread down candle, finally propelling copper below the recent sideways price congestion which has been in place since early March.
This has also added additional momentum to the already bearish tone for copper. This was was initiated in the middle of February, following the failure to breach the 3.8500 region, which had also been tested on several occasions back in September 2012, and which duly resulted in a reversal back to the 3.4500, but which on that occasion managed to hold and build a platform of support for a rally higher.
Yesterday's price action was significant, as it simultaneously breached the current resistance area, along with that of September last year, and we now look set to move deeper, possibly to re-test the 3.3500 region in the short-term. Today's price action was symptomatic of a market struggling to find some traction, ending with a doji candle, which may hint at a possible short-term move higher, whilst the dominant tone remains bearish.
Volumes through late February and into March have been significant, and particularly in the price waterfall lower, where these have merely confirmed the bearish picture. Indeed yesterday's wide spread down candle was coupled with extremely high volume once again, giving further confirmation, if any were needed, that selling pressure in the market remains heavy, and until we see stopping volume associated the confirming candlesticks, then copper looks set to fall further in the medium term. Indeed yesterday's price action also posted an isolated pivot high on Friday's candle, which is adding it's own downwards pressure.
If the 3.3500 region is breached then we could even see the commodity move back to test the 3.0000 region last seen in October 2011.
By Anna Coulling
Come and join my live training room and discover why in today's complex markets price behaviour holds the key to your trading success.