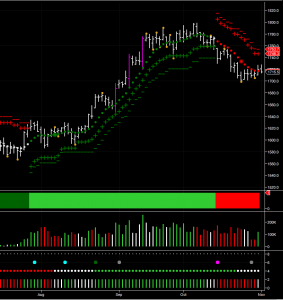 In a shortened trading week following the devastation of Hurricane Sandy, the markets opened in muted tone, which was has also been reflected in gold, with the December gold futures contract once again trading in a narrow range, and ending yesterday's trading session marginally lower at $1715.5 per ounce. The markets are of course pausing for several reasons. First we have the monthly Non Farm Payroll data due shortly on the first Friday of the month, followed next week by the US Presidential elections, which have taken a back seat. So, as always, the question is, where next for gold in the short to medium term?
Trading this week has been characterized by thin trading volumes, and the only change yesterday was an increase in volume, coupled with a degree of buying, as shown with the green volume bar on the daily chart. Indeed, this has been the first such bar for several weeks, with selling volume dominating the daily picture. Earlier in the week, our trading indicators delivered an isolated pivot low, which pushed the market marginally higher as a result, but the outlook remains firmly bearish, with the trading indicator bright red, the daily trend remaining bearish, and with heavy selling volume on the three day chart, all adding to the negative outlook for gold at present. The key to the longer term, will be a change in trend on the three day chart. At present this is in transition from green to white, and should this ultimately move to red, then the 3 day chart and the daily chart will both be aligned, with a further and deeper move lower in due course. Yesterday's volume bar moved to no demand, suggesting a further period of sideways price action at this level.
The key technical level on the daily chart is now above the $1700 per ounce level, and if this is breached then we can expect to see gold futures move lower to test the platform of support in place at the $1625 per ounce level. Much of course will depend on the US dollar index, which itself is breaking above a key technical level in the 80.30 region, and if this level is cleared, either in the wake of today's Non Farm Payroll data, or early next week, then this will add further downwards pressure on gold prices in the next few weeks.
By Anna Coulling