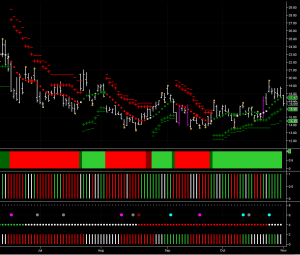 The VIX closed yesterday's US equity trading session at 16.69, having moved steadily lower throughout the day,, and ending with a wide spread down bar on the daily chart as the fear index retreated from the recent platform of resistance in the 19.00 region. The move lower for the VIX was reflected in some much needed bullish sentiment for indices in general, with both the YM and the NQ December futures closing higher on the day. Despite this however, the short term outlook for the VIX remains bullish, with the trading indicator remaining firmly green and with buyers clearly in evidence supporting the trend.
However, the 19.00 level on the daily chart is now a key area, particularly given the isolated pivot high which was posted last week just below the 20.00 level, and which provided the catalyst for the current short term pullback.
The three day trend for the VIX is also at an interesting tipping point, with the trend having transitioned here from bearish to white, and should this complete this move and ultimately move to green, then we can expect to see the VIX climb higher in due course, with a consequent sharp sell of in equities as a result. However, the  pivots of early September and of last week, now hold the key to the medium term.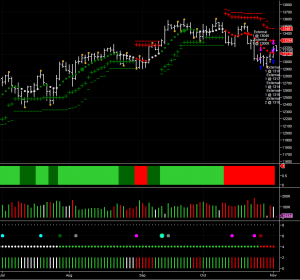 If this level of potential price resistance is breached, then we could see the VIX climb to re-test the 25.00 region in due course. However, if this level holds, then we may see a test of the platform of support now in place, and clearly defined, at the 13.50 level.
On the daily chart for the December e-mini YM futures contract, the short term outlook remains firmly bearish, with selling volumes on both the daily and the three day chart, and with the three day trend also red, this is adding to the negative sentiment for US equities.
However, a short term platform of support is now building in the 12950 – 13000 level, and of this holds, then we could see a bounce higher in due course, but with deep price resistance now directly ahead in the 13250 area, this will require sustained buying volumes on both the daily and three day charts to move the market above these areas.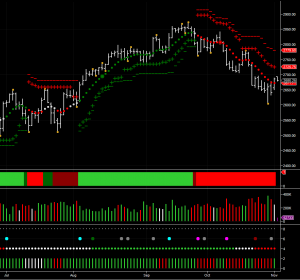 The same is true for the December emini NQ futures, which posted an isolated pivot low on the daily chart, which then provided the catalyst for the current move higher to test the 2700 level at the time of writing and following the release of the monthly Non Farm Payroll data, which came in better than expected. However, the daily chart remains bearish, and as for the YM, with deep price resistance now ahead, and with volumes predominantly sellers, risk on appetite remains weak ahead of the Presidential elections next week.
By Anna Coulling