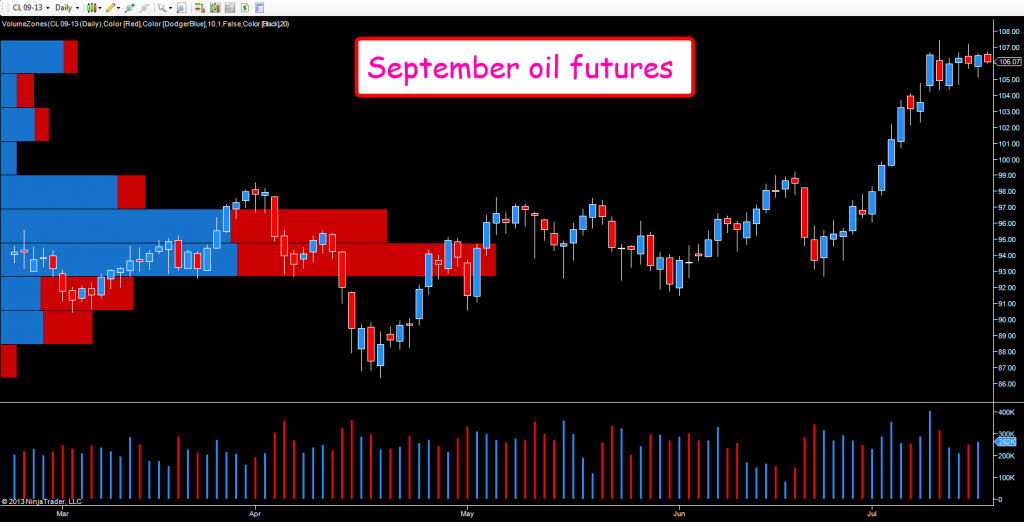 Following the recent bullish breakout for crude oil, the commodity has now paused for breath as it continues to consolidate in the $105 to $107 per barrel area. The question now is, where is the price of oil heading next?
Let's try to answer this simple question.
The recent bullish trend higher was borne out of a confluence of two forces. The fundamentals, driven by the problems in Egypt, coupled with a strong technical picture, which combined to produce the catalyst for this move. The move higher from early July was accompanied by strong and rising volumes on the daily chart, confirming this as a genuine move, and one which the big operators were also happy to support as crude oil moved through the extremely well developed area of price resistance in the $99 per barrel area, which has now become an equally well established level of future support. Whilst the price action in the last week or so, has been sideways, there is little to suggest from our volume price analysis, that this is anything other than a pause point, in a longer term bullish trend. There is certainly no evidence of weakness, and the daily volumes merely reflect the relatively narrow price spreads, both up and down, of a market in consolidation following an extended rally.
Moving to the volume at price histogram on the left hand side of the chart, once again, there is nothing to frighten the horses here, and with only a modest bar building, this should not present much in the way of resistance to any further bullish momentum. The key level now is in the $107.50 per barrel level and provided this is breached, then we should see oil price push on to test the $110 per barrel level in due course. Yesterday's crude oil inventories came in with a big draw once again, of -6.9M, well above the forecast of -1.9M, but below last week's level of -9.9M which surprised the markets. With the US driving season now getting into full swing, this may well provide the momentum required to breakout from the current region, and propel oil higher in a further leg of the trend.
By Anna Coulling