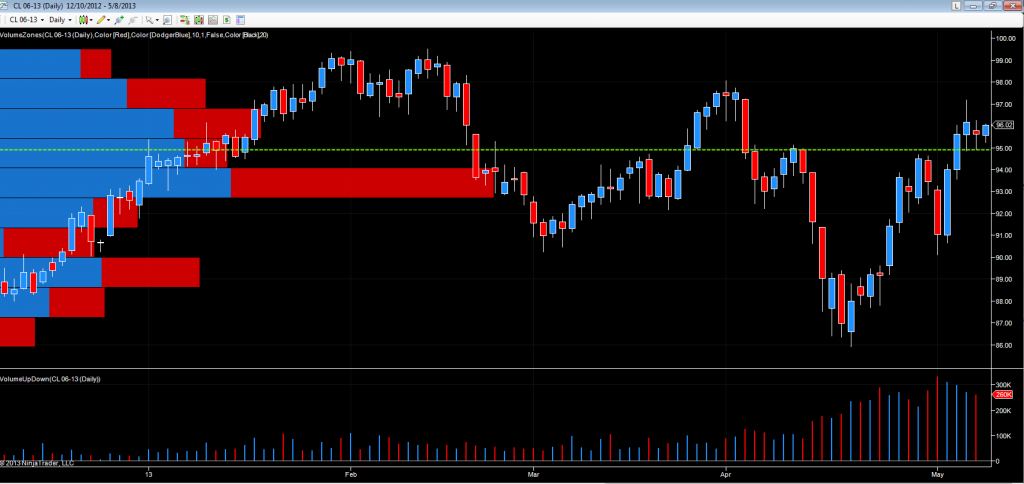 An interesting period of price action for oil traders over the last few days, as the short term negative sentiment of early May was duly reversed with a bullish engulfing candle last week, which promptly sent the commodity firmly through the interim reistance area in the $95 per barrel level. The question now is whether this is likely to hold, or are we about to see a reversal from this level once again?
One of the answers to this question can be found in the candles of Monday and Tuesday, and here we are looking at the daily chart for the June WTI contract, with the chart from the electronic contract on Globex.
Monday's price action ended with a long legged doji, a clear sign of market indecision at this level, and indeed was also accompanied with high volume, indicating a clear pause point having broken above the resistance area. However, note the lower wick which tested this level during the course of the trading session, but held firm. Tuesday's price action followed a similar pattern, if more muted, but once again tested this support platform which held once again. Volumes yesterday were high but falling from those on Monday. So here we have a market pausing following a surge higher and also breaching a strong area of resistance, with good volumes, which has duly held.
Moving to the volume at price histogram on the right hand side of the chart, here we can see the immediate resistance and support regions, with the deepest support area now in place between the $93 and $94 per barrel area, protection in the event of any short term reversal. Today of course sees the release of the weekly crude oil inventories, with a forecast of 2.1M. However, given the disparity between the forecast and actual last week, with 6.7M surprising the market, one wonders about the accuracy or relevance of such forecasts!
Perhaps of more significance is the current weakness in the US dollar which has been a contributory factor in the recent move higher for oil, and with the US dollar sliding lower on the US index daily chart, any break below 81.50, would be further good news for oil bulls. Any re-test of the 80 region for the index, could then see crude oil push higher for a further run at the $100 per barrel level in due course.
By Anna Coulling