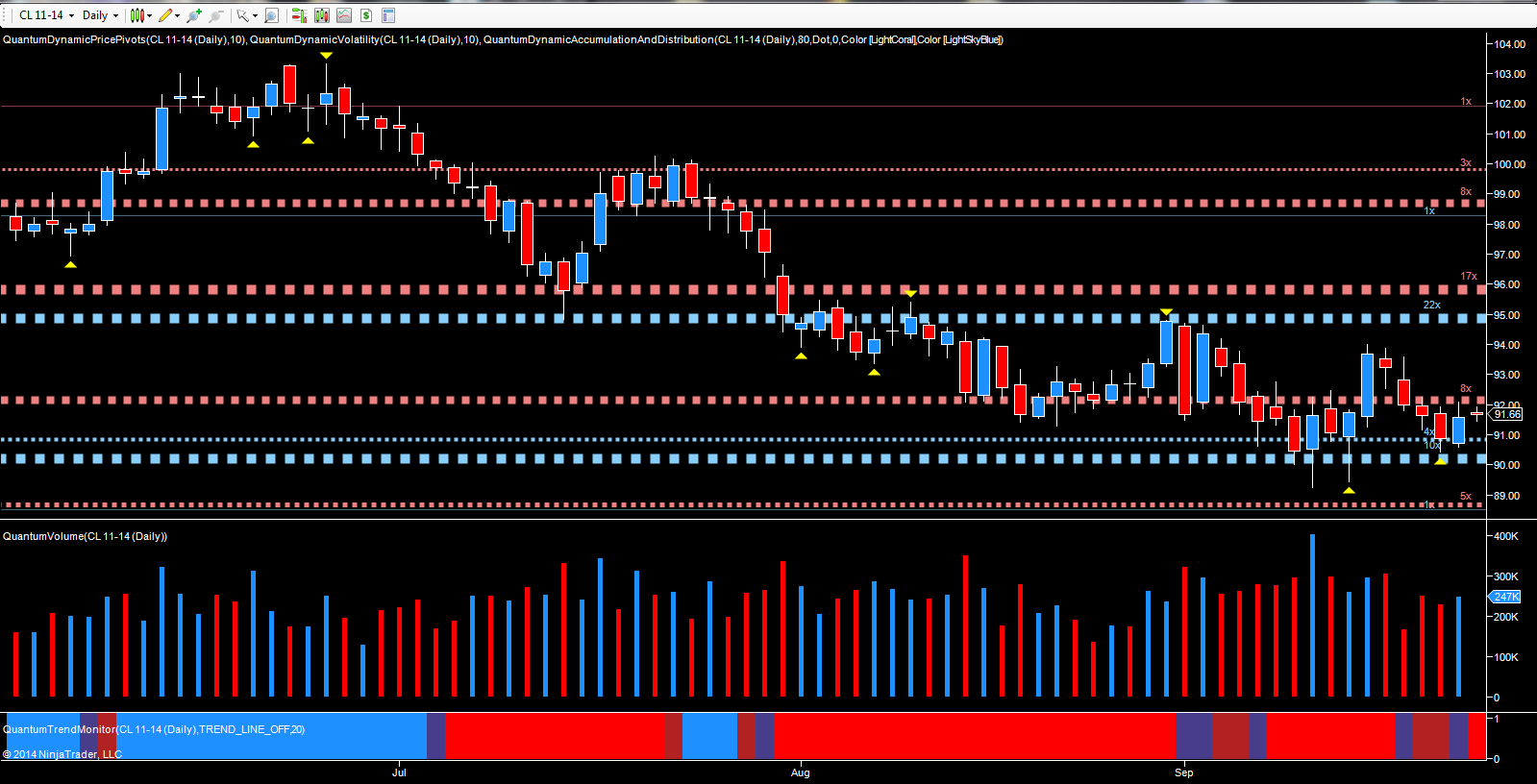 September's been an interesting month of price action for oil traders, as the WTI contract continues to bounce around, driven back and forth by a variety of forces as it continues to consolidate in a narrow range. The key platform of support is clearly defined with the  blue dotted line at $90.20 per barrel, a region which has been tested several times this month, but so far has continued to hold firm. Yesterday's price action was typical, with global tensions and slightly better than expected Chinese data, helping to push oil prices higher, before selling off towards the end of the oil trading session. The platform of support  was also tested once more, before closing at $91.56 per barrel on above average volume at 247K. This morning's open has triggered a pivot low on the daily chart, suggesting a possible move higher in the short term.
The blue support zone is now a key level, and if it continues to hold firm, then this may provide the springboard for a move higher and a breach of the $92 per barrel resistance level now immediately ahead. However, this level too was tested in yesterday's trading session, as indeed it was the day before, and if the commodity is to build any momentum from here, then we need to see a steady increase in volumes on any move higher. For the time being, oil looks set to continue trading at this level, and any break below the strong platform now in place at $90.20 per barrel, will then open the way for a deeper and a more sustained move lower, following this extended phase of price consolidation.
With little in the way of fundamental news due for release today, it's the oil inventories which will once again dictate, with the forecast for a modest build of 0.7mbbls against a previous of 3.7mbbls. Even the US dollar index appears to have run out of steam, marking time in the 84.80 region, as it continues to gather its strength for a move beyond 85. The CRB index closed marginally higher yesterday up 0.13 on the day and ending at 277.80, having fallen steadily over the last few months. So a glimmer of hope here, and with the US dollar now looking increasingly overbought, this may be the first sign of a possible change in sentiment as we move into October. But as always, volume price analysis will hold the key!
By Anna Coulling