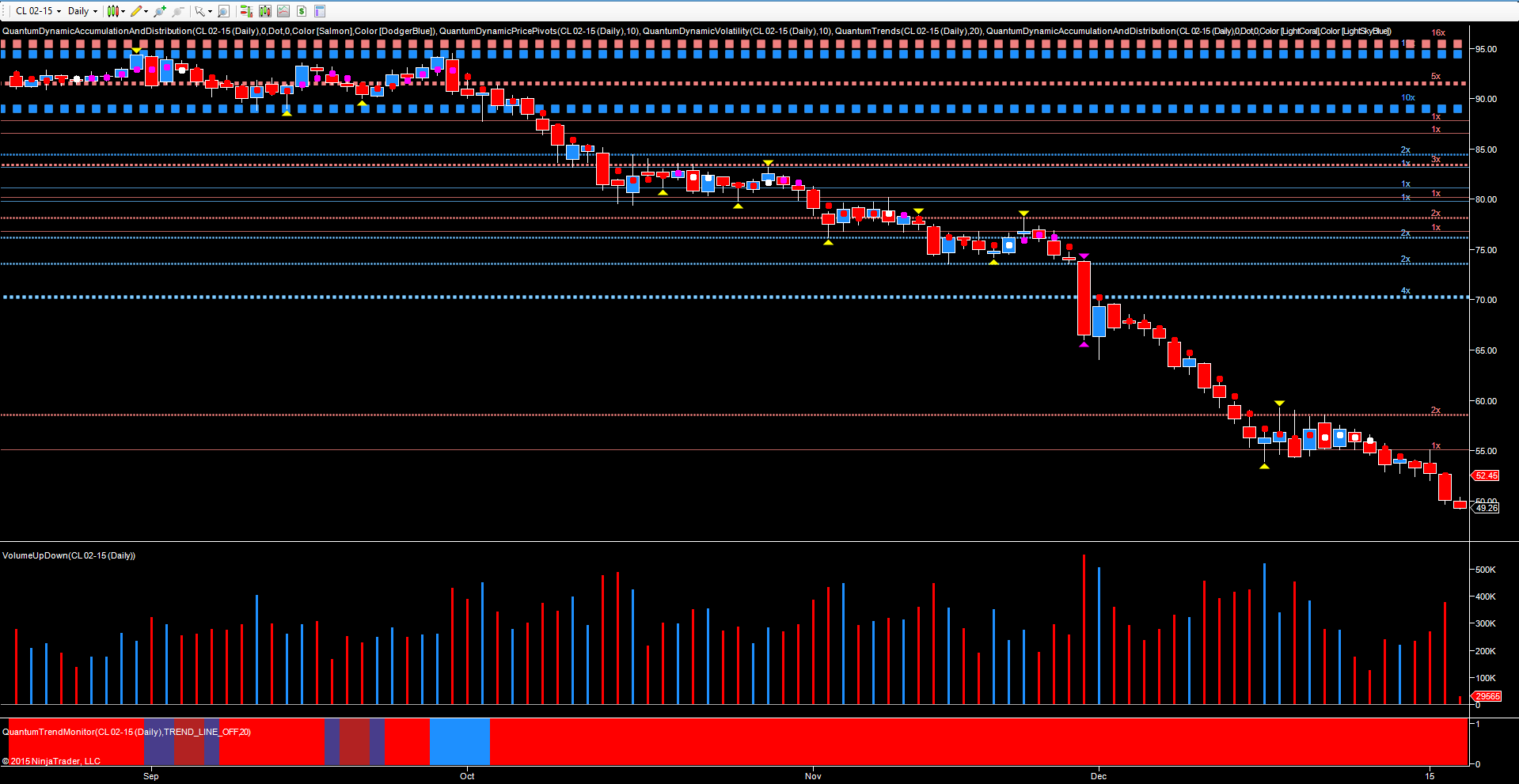 It was another 'OMG can it go any lower' day for oil yesterday as the February WTI futures broke below another psychological barrier in the $50 per barrel region, touching an intraday low of $49.68 per barrel before clawing its way back to close perched 4 cents above this price point. Whilst yesterday's price action closed with a wide spread down candle, it was the break through the support platform in the $52.70 per barrel region which was significant and confirming once again, if any further confirmation were needed, that the downwards pressure on the price oil is being maintained. The price action was also confirmed with the above average volume on the daily chart as speculative selling increased once more as traders picked up the pace in the new year with oil remaining firmly below the $50 per barrel region in early trading on Globex at $49.45 per barrel and with a deeper move now in prospect.
Whilst the technical picture for oil is inherently weak, it is the fundamental one which is currently the driving force for oil, as OPEC continues to take on the alternative energy producers, and refuses to bend to the increasing calls from its members to cut supply and reduce the glut of oil now washing through the markets. Oil production from the US continues to rise with fracking in North Dakota and Pennsylvania leading the way causing further concerns within OPEC. The economic picture is not helping, and with Europe remaining mired in recession, demand here is falling as indeed it is around the world, and with a potential slow down in China and consequent reduction in demand now looking likely, the pressure on the price of oil is overwhelming. Even the weekly oil inventories have almost become an irrelevance as the weight of bearish news engulfs the commodity.
So to answer the question – yes oil can go lower and almost certainly will, and as I have said before, down to the low $40's per barrel before the pain threshold for OPEC is reached. As always it will be volume that reveals both stopping volume and the associated buying climax, but at present there is no evidence of either. Until these two factors appear, the journey South for oil will continue and gather pace having broken through another base of potential support yesterday.
By Anna Coulling