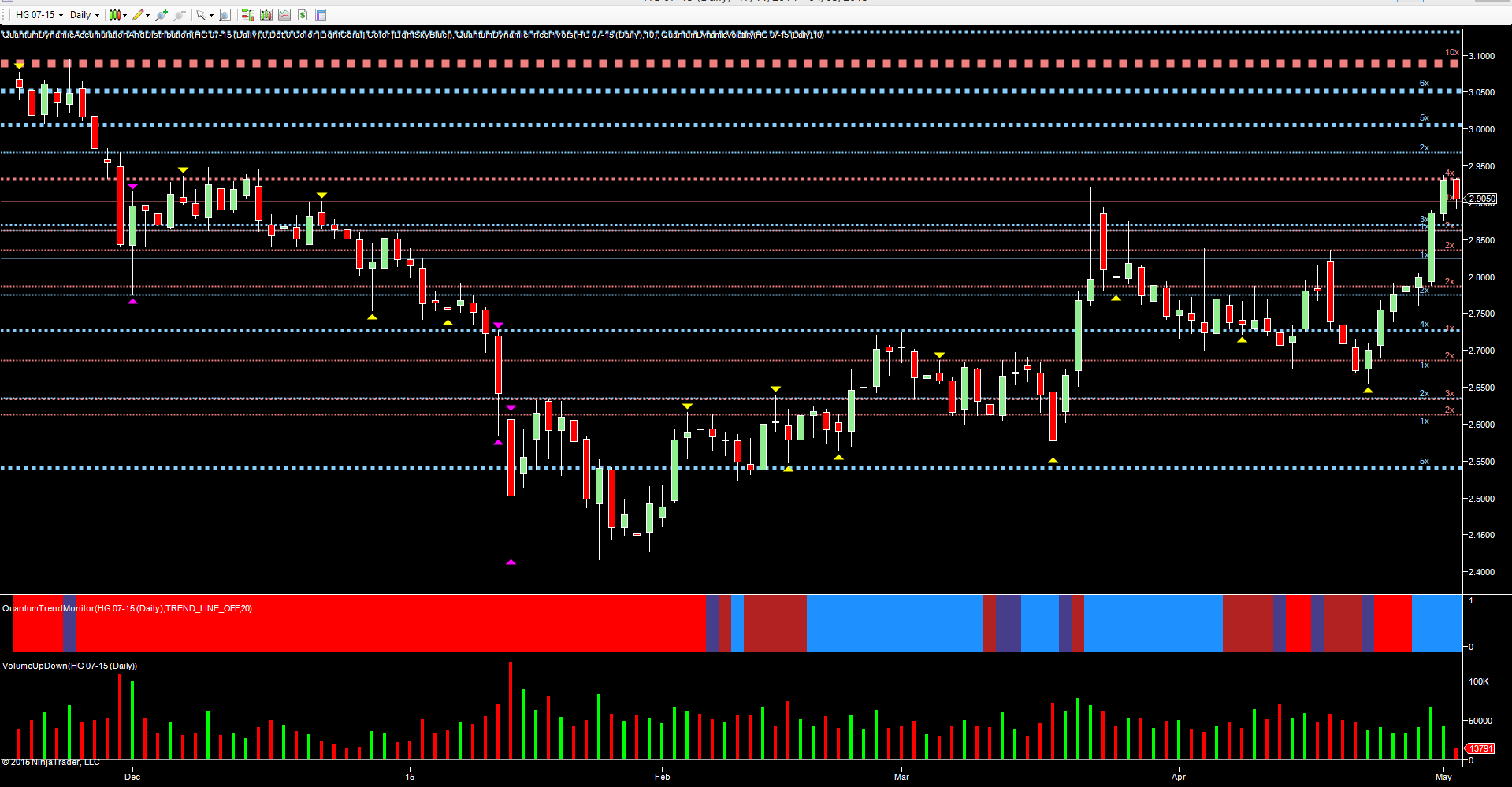 Last week was another positive one for the price of copper, which continues to push its way higher, following the sustained downwards trend of 2014, which saw the base metal break below the key $3.100 per pound level to finally touch a low of $2.416 per pound in February 2015. Since then the red metal has clawed its way higher, and is now testing a key resistance level in the $2.9300 per ounce region on the daily chart, as denoted with the red dotted line. Friday's price action rounded off a positive week for the metal which rose for five consecutive days, building on the bullish momentum of the previous week, with the price action confirmed by rising volumes.
The move higher on Thursday was notable with the wide spread up candle of the session taking copper prices through the resistance in the $2.8700 per pound area before closing at $2.8865 per ounce on the day on strong volume. The news from China was the primary driver with the Manufacturing PMI data coming in better than expected at 50.1 against a forecast of 50, thereby helping to provide copper with a further lift. Chinese data and demand remains the bellwether economic indicator for the metal, with China being both a major producer and consumer of the base metal, having increased its own production significantly in 2014 on growth expectations. Moreover, China has now decided to recommission of one of its largest smelting works in the Northern provinces, which until last year had been idle for over 5 years. The decline in the US dollar has also helped push the metal higher with the US dollar index falling from the highs of 100, on a change of stance from the FED to a more dovish tone on the back of weaker than expected US economic data.
However, for copper to continue to move higher, we will need to see a move through the $2.9300 per pound level, and provided this is accompanied with rising volumes once again, then a move to test the deep area of resistance in the $3.100 per pound region seems likely. The move higher for the commodity has also been reflected in related markets, particularly several of the mining stocks. In early trading the commodity has moved marginally lower to trade at $2.9065 per pound at the time of writing, but this is no surprise given that UK and Japanese markets are closed today for public holidays, trading volumes may be lighter than usual.
By Anna Coulling
Charts are from NinjaTrader and the trading indicators from Quantum Trading.