Yesterday's trading session for commodities was an interesting one to say the least, with oil prices slumping, gold prices whipsawing, and silver prices breaking lower with momentum, as the bears continue to maintain a vice like grip on the market. All of this price action is against the backdrop of global events, a strong and rising US dollar, and a falling CRB index, Perhaps if we start with oil, and following on from my post of yesterday, the resistance level at $95 per barrel came into play a little sooner than expected and with some force! As I explained, this was a key level for oil, given the depth of distribution in this region, and coupled with a second area of accumulation immediately below in the $94 per barrel area, with oil prices testing the upper level, before breaking lower in grand style, offering oil traders excellent trading opportunities in the move lower. The strength of yesterday's move is clearly evident from the associated volume which was ultra high, confirming the wide spread down candle, with the November contract closing at $91.16 per barrel ahead of today's oil inventories report. I also suggested in yesterday's analysis that if the $95 per barrel region held, then we can expect to see further price congestion in the current range, with the floor clearly evident in the $90 per barrel zone by the deep area of accumulation shown with the blue dotted line. These two price levels now define the price channel for oil. If the floor holds, then expect a move higher, but if this is breached then further downside momentum is likely. For oil traders waiting for the next trend to develop, it's a question of patience at present, and once the floor or the ceiling of the current channel is breached, and confirmed with high volume, then this will then set any longer trend in progress.
Moving to gold, it was yet another day which promised some hope for gold bugs with an initial rally higher, which was promptly snuffed out later in the session with the precious metal closing lower once again, teetering on the brink of a further leg down in the longer term bearish picture. This technical weakness is no surprise given the price action of the last two weeks, with every attempt to rise then capped in the $1230 per ounce region, and with this weakness further confirmed with high volume under the associated candles. This heavily bearish tone has continued overnight, with gold continuing lower on Globex and currently trading at $1207.10 per ounce as the market tests minor support in this region. This level is unlikely to hold, and $1185 per ounce now beckons in the medium term, with any move through there, then opening the trap door for a more significant move lower.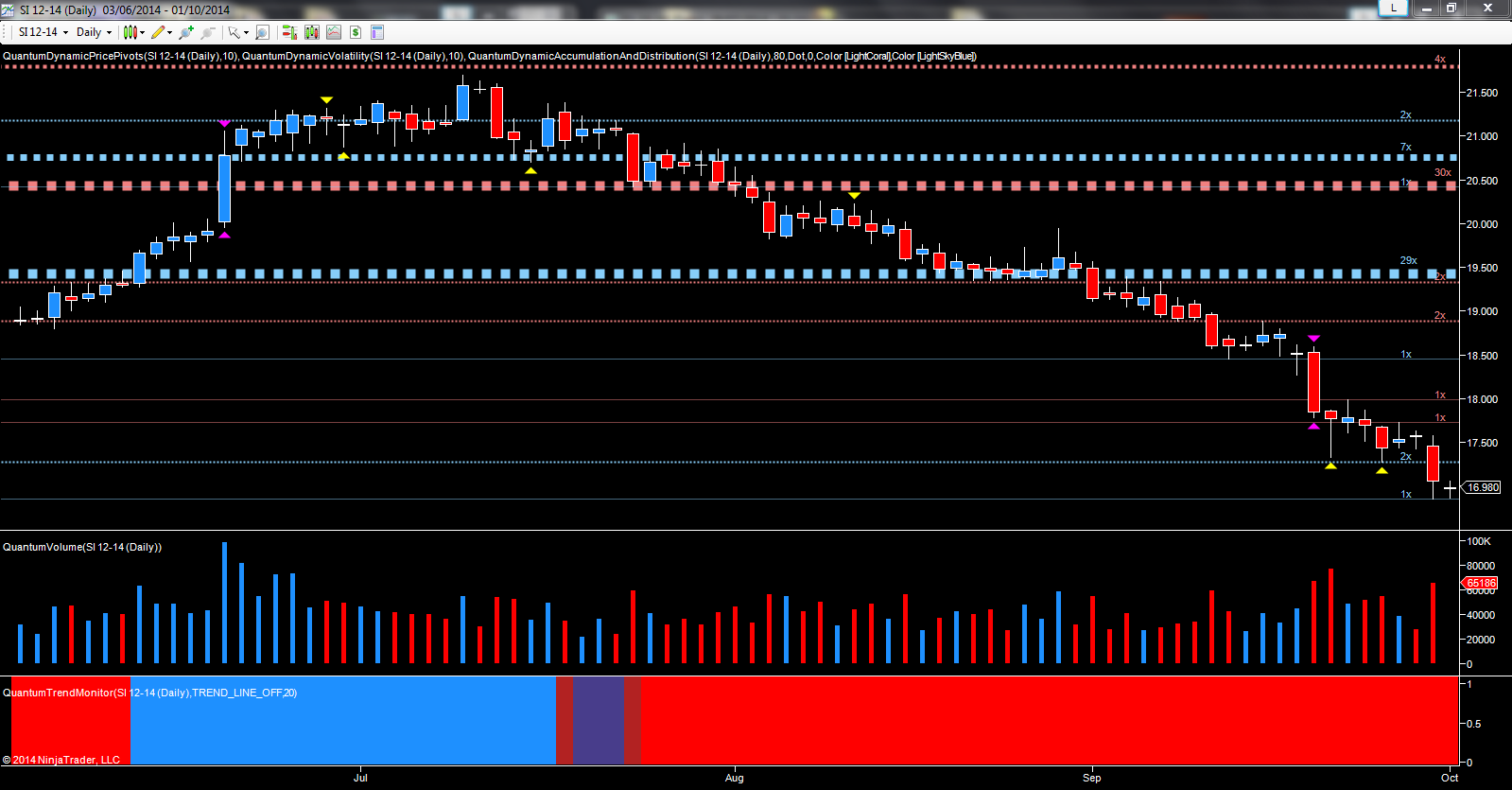 Finally to silver, and again as with gold, another commodity that is heavily bearish at present, with yesterday's price action defining a further move lower. Here the wide spread down candle breached the floor of recent short term support in the $17.24 per ounce region, which until then, had been holding firm. However, with this level now broken, and with the two pivot lows defining this region further, silver like gold, looks set for a deeper move lower. As always, it will be volume that signals any major turning points, and to date there has been no evidence of a buying climax in any timeframes. If and until we see this pattern of volume and price action, then the outlook for both metals remains heavily bearish. For silver the next logical pause point is in the $14.00 per ounce area, where a deep platform of potential support awaits. This level will then define progress into 2015 and if this is penetrated, then it's possible, just possible, that the industrial metal may move to test the $10 per ounce region, last seen back in mid 2009.
By Anna Coulling