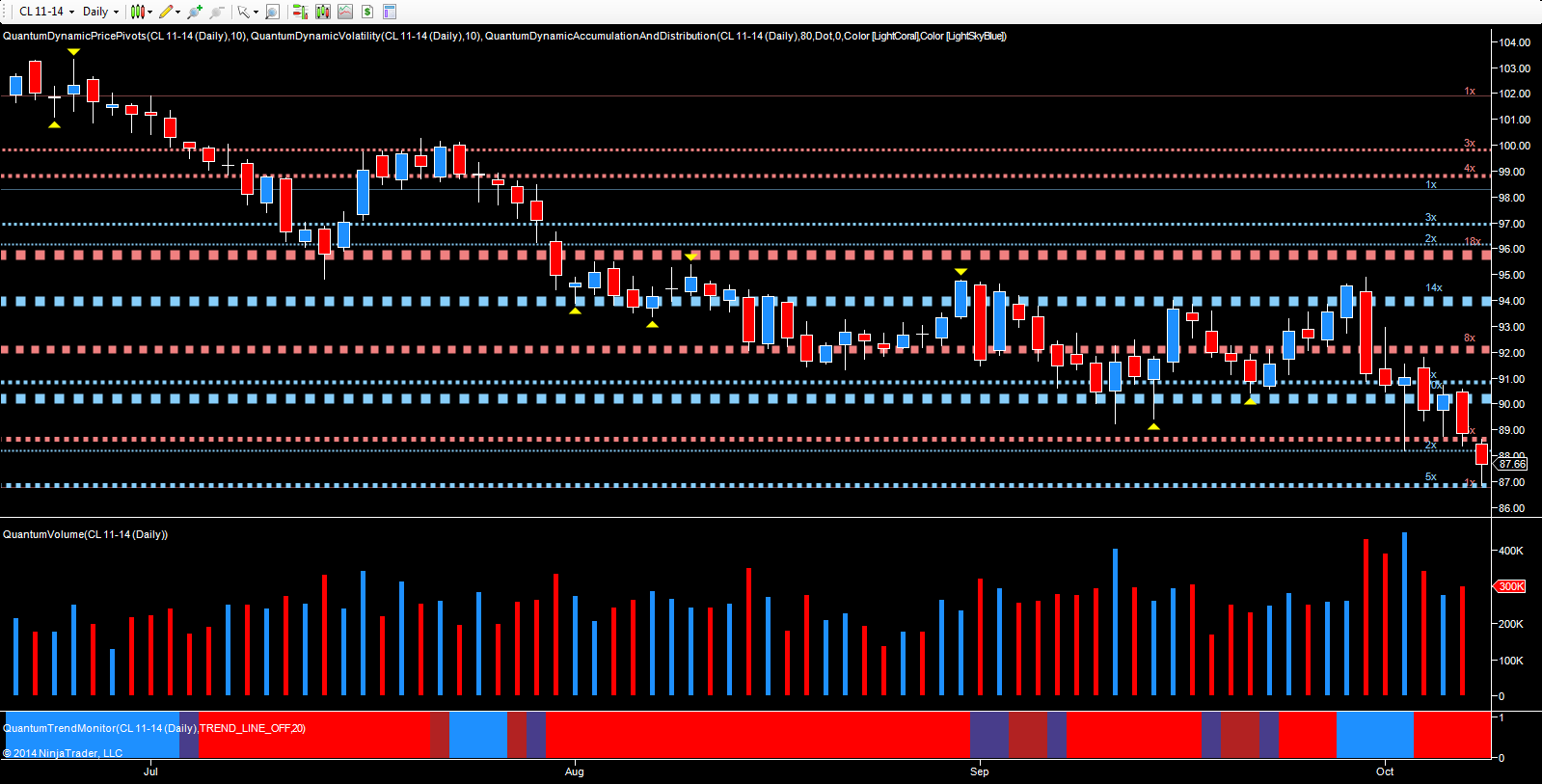 Bearish momentum for crude oil has continued overnight and into today's oil trading session, with the WTI November contract moving firmly lower on the daily chart once more. Yesterday's price action was seminal, with the commodity finally breaking through the key support level in the $90.20 per barrel region, as defined by the blue dotted line. Until then, this level had held firm, albeit in an increasingly fragile way, with the close of yesterday at $88.85 per barrel finally confirming the negative sentiment for oil, with the daily chart closing with a wide spread down candle on high volume. Last night's close also tested the secondary level of support in the $88.60 per barrel region, which was duly breached this morning as the market moved lower still to find some intraday support in the $87 per barrel region. This level of accumulation has provided support on five previous occasions, and is now taking on increasing significance as the markets await the FOMC minutes.
For longer term sentiment, the weekly chart is particularly revealing. Last week's wide spread down candle was associated with ultra high volume, as oil tested and failed at the $95 per barrel level whilst also finding support from the deep platform below, both defined by the dotted blue lines. With the price action today now testing this platform once again, if we see a break and hold below this level this week, then the trap door may open, for a further sustained move lower and even back towards the $83 per barrel region in the longer term.
Moving to the fundamental picture, today's oil inventories came in very wide of the mark, exceeding the forecast of a 2mbbls build by 3mbbls as supply builds, and reversing last week's draw of -1.4mbbls. With over supply now weighing heavily on the market, and with the US dollar continuing to move higher, despite the pause of the last few days, the outlook for crude remains bearish in the short to medium term. What is perhaps more significant for many oil producing countries is that we are now approaching the breakeven point for many, in terms of extraction and supply, making prospecting and refining uneconomic. Should this decline continue, then inevitably OPEC will step in, to protect its members and control supply to drive prices higher in due course.
By Anna Coulling