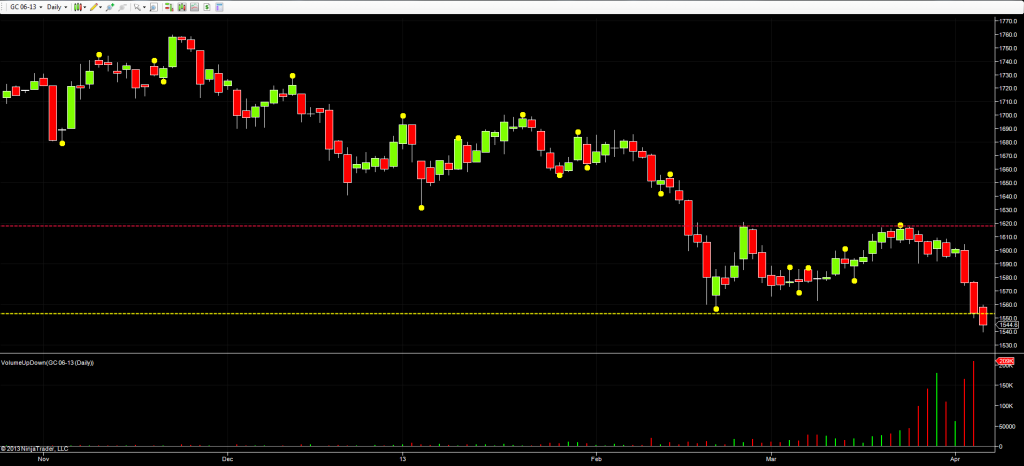 With commodities in general taking a hammering in the markets at the moment, neither silver or gold have escaped. In the last two days, the dramatic falls in silver, have also been reflected in gold futures, with the June contract trading lower once again overnight on Globex as we test the $1540 per ounce level.
The consolidation phase for gold extended throughout March, with the upper resistance level clearly defined by the red dotted line on the daily chart, in the $1620 per ounce area. This level was tested on several occasions and finally posted an isolated pivot high, which gave the market a further push lower towards the end of last month.
Whilst Tuesday's price action was important, ending with a wide spread down candle, it was yesterday's trading session which was significant, breaking below potential support in the $1570 per ounce area, and closing the session at $1553.50 per ounce, and a second wide spread down candle. This heavily bearish sentiment has continued overnight, and should we see a close below the yellow dotted line at $1555 per ounce later in the day, then this will send a further negative signal to gold traders.
This negative outlook is also confirmed with the volume. Both the wide spread candles of the last two days have been matched with extreme and rising bars, indicating sustained selling pressure, and volume price analysis now holds the key. If the move is set to continue lower, then this will be reflected in the volumes on the daily chart, and for any pause or potential reversal, we will now have to be patient and wait for any signs of stopping volume.
In the meantime, the outlook is bleak for gold bugs and the psychological $1500 per ounce level is now clearly in sight.
By Anna Coulling