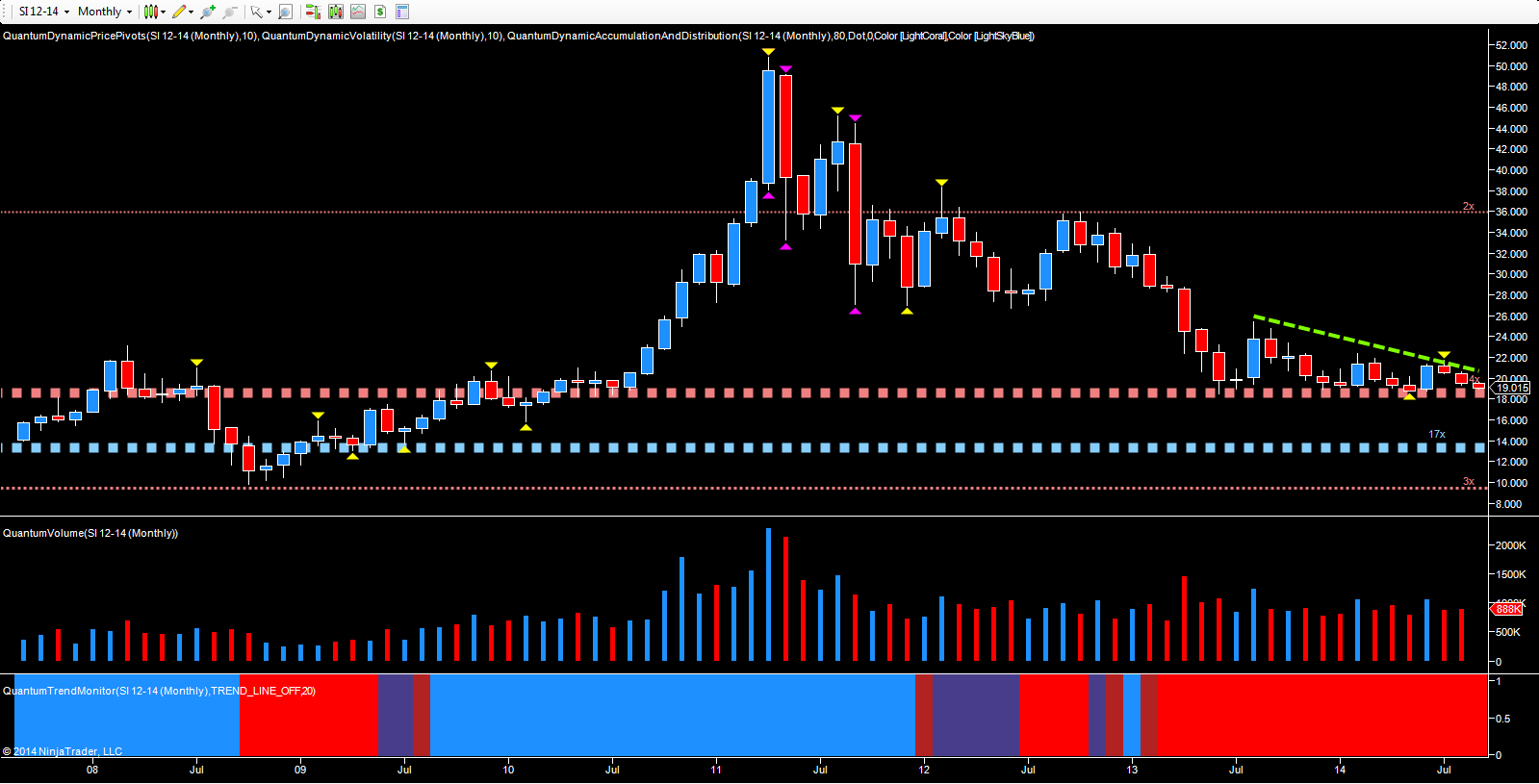 Whilst it's been a torrid time for gold bugs, investors in silver have fared little better, with the metal falling from the dizzy heights of $50 per ounce, to currently trade at $19 per ounce. At times, when studying the daily and even the weekly charts, the 'big picture' becomes lost in the detail of intraday trading and longer term investing. Stepping back for a moment gives us that longer term perspective, which then frames the 'faster time frames' of intraday and daily charts. So let's take a look at the monthly chart, which perhaps provides the perspective we need, when considering where the market is heading next.
And for silver, this could not be more clearly demonstrated than by the two deep areas of accumulation and distribution clearly defined on the chart. The first of these, the red dotted line, is the area being tested at present, and is one which has provided strong resistance to a move from below in the past. In other words, if this is breached, it will add sustained pressure to the move lower. It is also interesting to view the congestion phase of 2014 over this extended period, with the upper level well defined in the $22 per ounce area. Indeed, extending this price region back 12 months, creates a classic falling triangle as shown on the chart, with the green dashed line defining the falling element of ever lower highs. The base of the triangle is then created from the red dotted line which has been tested on several occasions throughout this phase of price action. A falling triangle is a classic sign of weakness, with each lower high signalling a market that is weak. This in itself suggests a further move lower for silver, and on towards the next key level at $13.75 per ounce in the medium term.
Finally, with Chinese growth slowing, and economies around the world struggling to recover, the longer term outlook for silver prices remains negative, and with little sign of a buying climax on this timeframe or indeed anywhere else, silver looks set to fall further in the run up to Christmas.
By Anna Coulling